Sale!
Pra Luang Por Toh Pim Bang Grating, in Nuea Pong Nam Man from the early era of Luang Por Guay, of Wat Kositaram. Luang Por Guay was a Grand Sak Yant Master, and one of the most popular Masters for amulets around the world, with devotees in almost all nations. This amulet comes with city certificate from the SSamakom Song Pra Tae Mueang Siam Amulet Association. Free Registered Air Parcel Shipping Worldwide is included with this amulet. Luang Por Guay Chudtintaro (2448 BE – 2522 BE) was a powerful Sorceror Monk and Sak Yant Master with infamous powers of Kong Grapan Chadtri and Klaew Klaad Magic, whose large pantheon of Buddhist Votive Tablets and Krueang Rang Talismanic Occult Charms, are amongst the fastest disappearing amulets of the Present Era, since a massive increase in faithful devotees in recent years, have depleted the majority of his more well known and popular amulets from public circulation.
Please state in order comments what kind of casing you wish and I will invoice you
1 in stock
Description
Luang Por Guay from Wat Kositaram. Luang Por Guay was ordained on June 5, 2467, at the tender age of 20, marked the beginning of a transformative path. Taking the ordained name 'Chudtintaro,' meaning "Reaching Nibbana by cutting off defilement and desire," Luang Por Guay embarked on a profound spiritual quest.
Initially, he practiced the recital of the Vessantara Jataka, delving into the life of Lord Buddha's previous incarnation. His knowledge and mastery of the subject surpassed that of his peers, earning him admiration and respect. As he began preaching, Luang Por Guay discovered that his straightforward and sincere approach didn't align with the art of storytelling and humor required for such tales.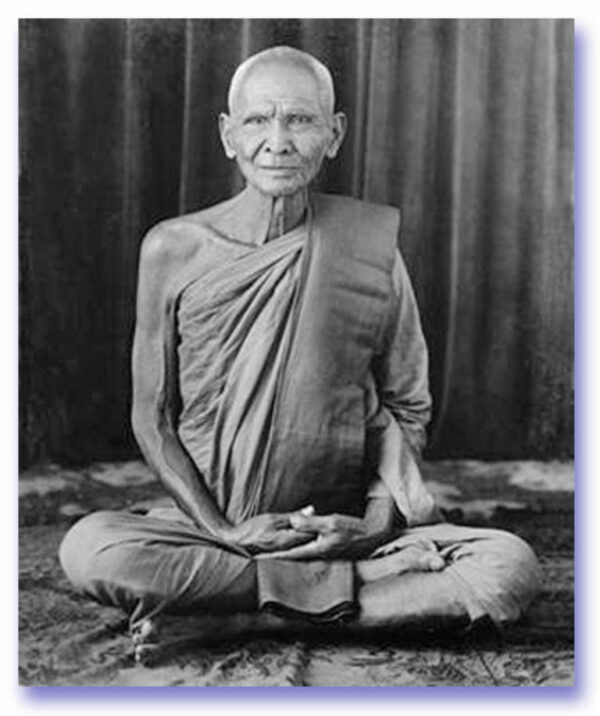 Undeterred, he sought knowledge in traditional medicine, learning from renowned masters who specialized in suppressing plagues and epidemics. His compassionate nature led him to help the suffering villagers, earning him a reputation as a healer and protector.
Continuing his studies, Luang Por Guay pursued Bpariyadtitam (Theoretical Dhamma) to deepen his understanding of the Buddha Sasana. Unfortunately, his quest was interrupted by illness, prompting him to redirect his focus towards Vipassana Kammathana practice and Wicha Akom—enchanting charms and talismans.
Venturing north, he learned the art of making magic rings from a prominent Vipassana Kammathana Master. Luang Por Guay's magical prowess blossomed, evidenced by mysterious occurrences in the temple and his unique ability to make Sak Yant tattoos, reputed to protect people from harm.
In 2491, he assumed the position of Abbot at Wat Ban Kae. Compassionate and devoted, Luang Por Guay lived modestly, foregoing one meal a day to support the impoverished locals. His legendary Sak Yant tattoos attracted people from far and wide, drawn to the assurance of protection and good fortune.
Throughout his life, Luang Por Guay constantly sought knowledge and wisdom, gathering Wicha from esteemed masters, both documented and unknown. Among his treasures was an ancient Grimoire filled with powerful Yant and magic Kata, further elevating his magical abilities.
On April 12, 2522, Luang Por Guay peacefully passed away, leaving behind a legacy of kindness, compassion, and magical expertise. Every year, on April 12, devotees gather at Wat Kositaram to pay homage to this remarkable monk and seek his blessings.
Luang Por Guay's life was a testament to simplicity, sincerity, and the pursuit of knowledge, inspiring generations to come. His magic continues to protect and empower those who seek solace and guidance on their spiritual journey.